Split This Rock Poetry Festival: Poems of Provocation & Witness 2018 | April 19-21, 2018 | Washington, DC
CELEBRATING 10 YEARS OF POETRY, WITNESS, RESISTANCE!
Registration is now open! Register online today!
We're excited to announce that registration is open for Split This Rock Poetry Festival: Poems of Provocation & Witness, April 19-21, 2018, in Washington, DC. The festival is the only one of its kind in the country highlighting poetry at the intersection of the imagination and social change. As DC's premiere poetry event, it gathers more than 700 poets, activists, and dreamers in our nation's capital for readings, workshops, panel discussions, youth programming, open mics, and activism, plus a book fair and a party.
Featuring some of the most significantly and artistically vibrant poets today, the festival offers opportunities to speak out for justice, build connection and community, and celebrate the many ways poetry can act as an agent for social change.
Use the navigation bar to the right to learn more and to start making your plans for April in Washington, DC. We can't wait to welcome you!
FEATURED POETS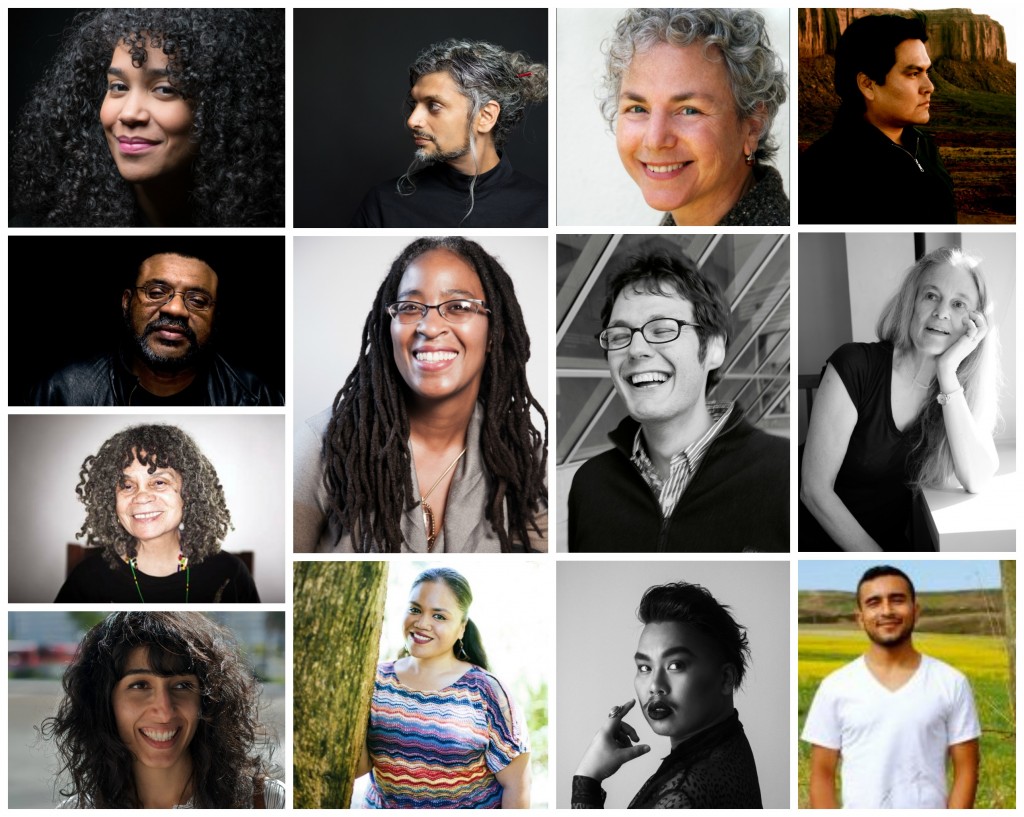 Split This Rock Poetry Festival is one of the rare occasions you'll find national slam champs, Pushcart and Pulitzer Prize winners, and emerging talents presented together on one stage.
The 2018 festival lineup will not disappoint! It currently includes Elizabeth Acevedo, Kazim Ali, Ellen Bass, Sherwin Bitsui, Kwame Dawes, Camille Dungy, Ilya Kaminsky, Sharon Olds, Sonia Sanchez, Solmaz Sharif, Terisa Siagatonu, Paul Tran, Javier Zamora!
Past festivals have featured poets such as Jan Beatty, Franny Choi, Martín Espada, Ross Gay, Ocean Vuong, Linda Hogan, Yusef Komunyakaa, Naomi Shihab Nye, Sonia Sanchez, Tim Seibles, Danez Smith, Patricia Smith, Anne Waldman, and Alice Walker. In 2016, the festival even included the then newly appointed Poet Laureate of the United States, Juan Felipe Herrera. Relive festival memories by watching featured poet videos on Split This Rock's YouTube channel.
2018 FESTIVAL FOCUS
Not only does poetry equip us to speak out against oppression but it helps to sustain us in these extremely perilous times. It reminds us of what it means to be fully human, holds the vision of what is possible, creates community, keeps alive what we value: compassion, justice, love. Poetry helps us find our voice when we feel powerless. It helps us be our best selves, so we can continue the long-term activism our current climate demands.
As we selected sessions for the 2018 festival, we were particularly interested in sessions designed to help us combat despair (or ride through it), learn from one another across generations, celebrate cultures targeted by hate, figure out what it means to live in this time, and equip us all as creative and effective citizens and activists. Special areas of interest were sessions focused on disability, transgender issues, reproductive rights, xenophobia/immigration, health care issues, confronting white supremacy, poverty and economic inequality, and eco-justice.
It was our desire to offer a schedule that included opportunities to learn ways that poetry is being engaged in resistance efforts against oppressive measures by political leaders that put our civil rights, health, education system, environment and lives at risk. As always, we were also on the look out for sessions that reflect diversity, creative ways of interacting, intergenerational conversations, and ideas that are new to us.
SPONSORSHIP
Festival sponsorship is now being accepted and can be given online. Visit the festival sponsorship webpage for more information or contact Camisha Jones at camisha@splitthisrock.org.
INTERNSHIPS
We are now accepting applications for interns who would like to be part of the 2018 Split This Rock Poetry Festival leadership team. Learn more about the positions on the Volunteer page.
PUBLIC ACTION
We are now accepting suggestions for the festival's call to action. Please take our brief 3 question online survey.
NEED A HARDCOPY OF THE REGISTRATION FORM?
The registration form is available for download as a Word document and as a PDF. Please note that registration forms submitted by email are due by Wednesday, March 28 and mailed forms must be postmarked by Monday, March 19, 2018.
---
2018 FESTIVAL - CALL FOR PROPOSALS (CLOSED)
Thank you again to all who submitted session proposals, which were due June 30, 2017. Announcements of decisions were sent out in October.