Workshops & Readings
There's so much to look forward to at Split This Rock Poetry Festival: Poems of Provocation & Witness 2016 (April 14-17, 2016)! The festival gathers poets, activists, and dreamers every two years in our nation's capital for four days of readings, workshops, discussions, youth voices & activism. And for 2016, the festival kicks off with a special event at the Library of Congress on April 13 featuring Juan Felipe Herrera, Poet Laureate of the United States!
We're excited to share list of sessions below. We're still crafting the full festival schedule -- so stay tuned for more updates! Visit the main page for Split This Rock Poetry Festival 2016 to see a list of featured poets.
ONLINE REGISTRATION FOR SPLIT THIS ROCK POETRY FESTIVAL 2016 IS OPEN UNTIL MARCH 31. Sign up on our mailing list to stay informed!
---
2016 SPLIT THIS ROCK POETRY FESTIVAL SESSIONS
Readings | Workshops | Panel & Roundtable Discussions

READINGS
And The Earth Did Not Devour Us: A Farmworker Reading
Presenters: Miguel Morales, Sarah A. Chavez, James Tyner, Neftali Cuello Villalobos
Description: The 2016 election is already steeped in issues of immigration and the working class. Immigrant stories from privileged politicians will flood the media with manipulated images of workers and uncontextualized data. This information is incapable of communicating the nuance in the material lives of farmworkers who are so often used to polarize public policy. For that we'll need literature and art. This reading features diverse, award-winning writers in various stages of their careers who have themselves labored as farmworkers. Despite differences in age (early 20s to late 40s), education (PhDs to high school drop-outs), and geography (West coast, Midwest, South), they share a drive to revisit and honor aspects of the farmworker experience that often go unrecognized: the connection between culture and farm labor, the disabling of the body, the intersection of gender and sexuality in labor and labor movements. They will read from their own work and share and discuss the farmworker literature that influenced their writing.
#BlackPoetsSpeakOut: Split This Rock – Reading and Open Mic
Presenters: Amanda Johnston, Mahogany Browne
Description: A community Black Poets Speak Out reading for Split This Rock. Black poets and allies are invited to share poems by black poets in response to police violence. All readers will be recorded for the BPSO online archive that continues to reach an international audience and is sent directly to Congress as part of the BPSO letter-writing campaign. Black Poets Speak Out readings are poetic protest readings that directly address the crisis of police violence in the United States. These readings rally black poets and allies through poems of witness to actively engage the community, the justice system, and their elected officials in the demand for change.
Black Ladies Brunch Crew Presents "Not Without Laughter"
Presenters: celeste doaks, Niki Herd, Saida Agostini, Anya Creightney, Teri Cross Davis
Description: Of late, racially charged controversy and violence has pervaded American media. From an attack on young children at a Texas pool party, to a race-bending NAACP president, to the massacre of nine churchgoers in Charleston, disheartening news seems ever-present. However, the African American community has always battled sorrow with laughter. This reading offers solace through humor during these difficult times. The Black Ladies Brunch Crew will share light-hearted work of their own or by others, with the attempt towards healing. As we work through tough issues of police brutality, gender biases and economic inequality, what offers us light and hope? What poetic words of levity provide inspiration for us and others? Some topics these women will explore include romantic relationships, family, work, and a celebration of female identity. This is an invitation for temporary shelter from the storm.
Bois in Color – A Reading on Queerness & Race
Presenters: Cameron Awkward-Rich, Danez Smith, Hieu Minh Nguyen, Chen Chen
Description: In moments like ours, when the fact of racist violence "re-emerges" everywhere we look, there is an understandable tendency to retreat into single-issue politics--to claim Audre Lorde as black but not lesbian, or to strip Bayard Rustin of his homosexuality--which nonetheless participates in the murderous flattening of poc lives. Against this impulse, our work as queer bois of color asks: what can queerness teach us about race, about resistance, about productive masculinities, about flourishing? This event will consist of each presenter offering a brief account of how their work fits into this larger conversation, followed by a reading, and will conclude with time set aside for a Q&A.
Can You See Us? Policed Black Womanhood
Presenters: Destiny Birdsong, Nafissa Thompson-Spires, Kateema Lee, April Gibson, Katy Richey
Description: This reading will feature the work of black women writers who employ a range of craft approaches to writing the policed black woman's body, particularly when it is complicated by identity constructs such as poverty, (mental) illness, differing abilities, and addiction. Recent media coverage of the murders of black men has raised awareness about the vulnerability of black male bodies. However, the dehumanizing effects of policing are not treated with the same urgency for black women, whose multiple subjectivities place them in a constant police state. Everyone from police officers to doctors are trying to control, cure, or (as is the case in pop culture) reduce black women to commodified parts. In response, four poets and one fiction writer at various stages of their careers will read work that explores how such bodies are policed, how this policing informs our writing lives, and how we respond in ways that signal empowerment and rearticulation. The audience will be asked to participate in an interactive art project, and we will host a Q&A after the reading.
Contemporary South African Spoken Word
Presenters: South African Poets TBD
Description: This reading and conversation features 10 poets from the capital City of Tshwane, South Africa, who were all Finalists in the Speak Out Loud Poetry Competition at the South African State Theatre. As part of a Sister Cities International Agreement, Split This Rock has been working with the City of Tshwane to organize an on-going arts and culture exchange program between Washington, DC and Tshwane, South Africa. Split This Rock is pleased to present our young sister and brother poet-activists of the New South Africa.
Cripping the Intersections: Readings Probing Disability and Identity
Presenters: Jim Ferris, Mike Northen, Kathi Wolfe, Jill Khoury, L. Lamar Wilson
Description: Disability – the one identity category that cuts across all the other lines. This themed reading will use poetry to explore some of the ways that the range of human circumstances we call disability weave through many other facets of identity, including race, gender, class, religion and spirituality, sexual orientation, level of education, and age. Disability intersects in complex ways with all other identity categories. This reading promises to challenge and trouble a variety of identity categories, probing the sometimes startling ways that seemingly disparate vectors of identity can converge. Discussion will follow; challenges, provocations, and jokes encouraged.
Cross X Bridge – Indigenous Poets, Genre, and Native Literature
Presenters: Heid Erdrich, Trevino Brings Plenty, Deborah Miranda, Eric Gansworth, Karenne Wood
Description: Native American/Indigenous poets perform work that fuses genre, to cross and bridge cultures. Indigenous resistance asserts itself in poetry that crosses genres to expand Native Literature through line, lyric, and poetics that meld with music and moving images. Our voice performances speak from urban and reservation lives, from distinct nations—for those who are silenced. The poets will perform and engage listeners in a talk back session. We are Lakota, Ojibwe, Onondaga, Esselen and Chumash, and Monacan. We come from all directions to share our visions and make our histories and presence known.
DC Worker Poets Occupy the Mic
Presenter: Mark Nowak & Worker Poets of DC
Description: Worker Writers, an Institute founded by Mark Nowak in collaboration with the PEN American Center, organizes and facilitates poetry workshops with global trade unions, workers' centers, and other progressive labor organizations. These workshops create a space for participants to re-imagine their working lives, nurture new literary voices directly from the global working class, and produce new tactics and imagine new futures for working class social change. Building on our work in NYC with workers centers such as Domestic Workers United, the Taxi Workers Alliance, Street Vendor Project, and Haitian Women for Haitian Refugees, these workshops will engage Washington, DC, workers in writing new poems and sharing them together in a public group reading at Split This Rock Poetry Festival. For updates from the workshop, follow us at @WorkerWriters.
The Drawbridge Collective: Disrupting and Reimagining Aesthetics of the Craft
Presenters: Clint Smith, Elizabeth Acevedo, Pages Matam, Amin Law, Terisa Siagatonu
Description: Coming from both spoken word and formal literary backgrounds, while pushing back against the notion that these are mutually exclusive, the Drawbridge Collective will give a reading imbued with dynamic performance and literary merit. The reading will serve as an exhibition of new voices that traverse multiple genres and discuss what it means to be young artists of color at a time in America when many young people of color are on the receiving end of ubiquitous, and often state-sanctioned, violence. All under the age of 30, this group represents a new generation of multi-racial artists rejecting the false dichotomy between "the page" and "the stage." Their collective reading will specifically focus on the idea of intersectionality as it relates to racial justice. From illuminating the congruence between the Palestinian Liberation and Black Lives Matter movements to delineating what arts education looks like in a cross-cultural context, each poem is ingrained with critique, vulnerability, and honesty.
Eco-Feminist Poetry, Intersectionality, & the End of the Earth
Presenters: Hila Ratzabi, Jess X. Chen, Laura Brown-Lavoie, Cecilia Pineda
Description: Solastalgia (n.): the pain experienced when the place that one lives is under immediate assault. Today, rapid ocean acidification and rising CO2 levels drive the Earth and its eight million species closer to collapse. As the colonial world expands, borders are being violently redrawn, further pushing what's left of the wild out of their homes. As climate change endangers our material, physical, and spiritual wellbeing, our response must be both intersectional and radical. As eco-feminist poets and environmental activists of diverse backgrounds, we respond to this crisis with fierce and visceral poems. The poets will each read and perform new work and then participate in a Q&A with the audience. A multimedia visual art presentation featuring interactive examples of eco-feminist art, music, and activism will accompany the reading. Through poetry and discussions of eco-feminist activism, we will explore the ways women, immigrants, indigenous peoples, and the Earth are entwined not only in the violence and silencing they face, but in their struggles and resilience.
The Golden Shovel: Honoring Gwendolyn Brooks
Presenters: Wesley Rothman, E. Ethelbert Miller, Leah Umansky, Jeanann Verlee, Ravi Shankar, Reginald Dwayne Betts
Description: This interactive reading will celebrate the continued influence of Gwendolyn Brooks through the introduction of the "Golden Shovel," a form created by MacArthur genius grant winner Terrance Hayes in which he draws on Brooks's much-anthologized poem, "We Real Cool," encoding the words into his own poem. The poets will share work from the forthcoming Golden Shovel Anthology, which will celebrate the centenary of Ms. Brooks's birth. The session will include the story of the Golden Shovel form and anthology, sharing poems by Gwendolyn Brooks and the participants; recall Brooks's legacy as poet and witness; and implore attendees to listen and speak their provocation and witness through the Golden Shovel form.
Increasing Queer Visibility through Independent Publication: A Reading and Discussion
Presenters: Mónica Teresa Ortiz, Heidi Andrea Restrepo Rhodes, Sarah Maria Medina, Raquel Gutiérrez, César Ramos
Description: The representation of the queer Latina/Latino community in mainstream imagery is limited to a vision lacking depth and complexity. Usually fixating on a cultural stereotype or a pre-conceived notion of sexuality, often marginalized if it does not adhere itself to exploitation. Contemporary queer Latina/Latino poets, editors, and publishers are creating their own spaces that allow for the exploration of other messages such as; identity, organizing, writing, family, and social justice. Through the discussion of these fundamental themes we hope to increase visibility, foster solidarity, and raise awareness of diverse representations of the queer Latina/Latino community. Featured authors of Raspa Magazine, a queer Latino literary magazine, will read and discuss their work, their experience with independent publications, and the challenges faced in order to maintain such mediums viable.
The Names We Carry: Poetry Inspired by Radical India
Presenters: Shikha Malaviya, Ellen Kombiyil, Minal Hajratwala, Vidhu Aggarwal, Tanuja Jagernauth, Leeya Mehta
Description: The Names We Carry is a companion reading to the workshop Revolt: Writing Poetry Inspired by Radical India, reflecting the many names, labels, and categories we use/discard/attach to ourselves and others, throughout our lives. In this reading, poets connected to India and the Indian diaspora will share poems exploring issues of exile, imperialism, identity, caste/color discrimination, sexuality, and more. Participants from the Revolt workshop will also be asked to share select work generated with prompts meant to explore these same themes. More specifically, through this reading, we want the audience to think more deeply about what the function of activist poetry is, how it not only informs and explores, but is also a call to action. In order to engage the audience and illustrate how powerful activist poetry is, we will encourage audience participation during the reading as well, asking them to fill in words and missing phrases, to help them create and think about the different kinds of dialogues we constantly must create and reinvent in order to highlight different causes.
Out Shout! Lesbian Poets Praise Arktoi Books
Presenters: Celeste Gainey, Elizabeth Bradfield, Ching-In Chen, Rita Mae Reese, Verónica Reyes
Description: In 2006, feminist activist and queer poet, Eloise Klein Healy, established Arktoi Books, an imprint of Red Hen Press, for the sole purpose of publishing literary works of high quality by lesbians. Arktoi's mission is to give lesbian writers more access to "the conversation" that having a book in print affords. Over the past 10 years, Arktoi has published eight books, five of them full-length poetry collections by first-time lesbian authors. Empowered by Arktoi, these poets have all gone on to national attention and acclaim, their poetry and singular points of view a part of the provocative global conversation on gender, sexual identity, and queer culture. In celebration of Arktoi's tenth anniversary, all five poets will read from their Arktoi collections as well as from work published more recently. As well, each poet will speak briefly about the ways in which publication by Arktoi has influenced and supported their choice of personal and artistic identity within the chaos of a burgeoning gender-fluid culture. This reading will be interactive, with time set aside for audience questions and open dialogue.
Poetry of Resistance ~ Voices for Social Justice
Presenters: Odilia Galván Rodríguez, Sarah Browning, Carmen Calatayud, Carlos Parada Ayala, Joseph Ross, Martín Espada
Description: In response to AZ SB 1070, a racial profiling law passed in 2010 in Arizona, the Facebook page, "Poets Responding to SB 1070" was created. Poets Responding became a public forum, calling for a humane and just immigration reform, and for social justice for all those racially profiled and as a result, who suffer grave injustices, not only here in the Americas, but in other countries as well. With over 600,000 visits and more than 3,000 poems posted to the site, the poet-moderators decided to publish an anthology of featured poems dealing with these issues. The poets will read works from the anthology Poetry of Resistance: Voices for Social Justice (University of Arizona Press, 2016) and discuss the lively mixing of poetics and politics, which will serve as a focus for their discussion with the participants on the topic of building a community of writers willing to take action. The discussion will also center on the necessity of writing poetry of witness, as a means of calling out and for action against the injustices being suffered in the most recent upsurge of racially motivated hate crimes facing People of Color across our planet.
A Preview Reading from Ghost Fishing: An Eco-Justice Poetry Anthology
Presenters: Martín Espada, Ross Gay, Tiffany Higgins, Craig Santos Perez, Emmy Pérez, Melissa Tuckey
Description: Poets in this session will give a preview read from the forthcoming Ghost Fishing: An Eco-Justice Poetry Anthology and participate in a Q & A about eco-justice poetry. Aligned with environmental justice activism and thought, eco-justice poetry defines environment as "the place we work, live, play, and worship." This is a shift from romantic Western notions of nature as a pristine wilderness outside of ourselves, toward recognizing the environment as home: a source of life, health, and livelihood. It is poetry born of deep cultural attachment to the land and poetry born of crisis. It is recognition that the fate of the land is connected to the fate of people. Recent linguistics studies show that the most bio-diverse parts of the world are also the most culturally diverse. In places where biodiversity is threatened, linguistic diversity and culture are also threatened: current thinking in conservation acknowledges the connection between culture and environment. And yet, many western nature anthologies are monocultural. Ghost Fishing brings together a culturally and stylistically diverse collection of poets and poems to expand environmental consciousness.
Queer Pan-Latinidad: A LBGTQ Latina/o Poetry Reading
Presenters: Rosebud Ben-Oni, Nívea Castro, Ruben Quesada, Darrel Alejandro Holnes, Denice Frohman, Rigoberto González
Description: Queerness and Latinidad both offer spaces to explore the complex, messy, and undefined parts of LGBTQ Latino/a poets. To combine both is to honor the queerness in Latinidad, and the Latinidad in queerness. Five Latina/o poets explore the diversity of Queer Latinidad, representations of marginalized communities such as Afro-Latino and Central American, and queer issues of racism and class. A question and answer session will follow the poetry reading, in order to engage with the audience on the rich complexities and nuances of Queer and/or Latino/a identity in 21st century poetry and poetics.
Raising Lilly Ledbetter: Women Poets Occupy the Workspace
Presenters: Carolyne Wright, Laura Shovan, Sandra Beasley, Rosebud Ben-Oni, Susan Eisenberg, Sarah Freligh, Cindy Williams Gutiérrez, Vandana Khanna, Bonnie Morris, Marianne Szlyk, Laura Madeline Wiseman, Jan Beatty
Description: In January 2009, after President Obama signed the Lilly Ledbetter Fair Pay Act, his first legislative act after taking office, poet Carolyne Wright wanted to hear from women about their workplace experiences—not just pay and promotion inequity, or workplace harassment and intimidation, but all matters relevant to women and work in an increasingly globalized world, including the ever-widening range of occupations in which women are engaged. Wright and her co-editors set out to edit an anthology of poetry about women in the workplace, knowing that it would be a daunting, yet important task. "Raising Lilly Ledbetter" brings together voices of women poets in the work-spaces they occupy: from cotton rows to corner suites, trawlers to typing pools, nursing stations to space stations, factory floors to faculty offices. These voices bear witness to women's workplace lives, and act to re-envision and re-figure the world of work for women.
Whose World Is This?: Poetry, Equality, and the Earth
Presenters: Brian Gilmore, Ailish Hopper, Teri Cross Davis, Ernesto Mercer
Description: Four poets share poetry inspired by a question poet Haki Madhubuti uttered in 1987: "Who owns the earth?" In recent years, a movement called "Degrowth" has sought to seriously consider that question, as these poets will through poetry. We want a better world, cleaner, less pollution, a world of environmentally conscious people who realize the current path of growth and more growth is destructive. But what about equality in this new world we seek? Will the new world be one in which equality, especially along racial and ethnic lines, will also be a goal? Will the Global North share equitably with the Global South as the necessary changes are made? Will the West continue to exploit the Global South for the sake of endless economic growth that cannot possibly save the planet? This reading, the writings of four well known poets, and the writings of others, will explore these ideals.
Willow Books Showcase Reading
Presenters: Rachelle Escamilla, Elmaz Abinader, Rich Villar, Mahogany Browne, Yesenia Montilla
Description: Poets representing four publishing series by Willow Books will give a showcase reading. Founded in 2008, Willow Books specializes in the literary works of writers of color. The Willow Books Literature Awards, Established/Emerging Author Series, Editor's Choice, and Innovator Series feature the diverse voices of poets of color from across the nation. Through publishing programs, national and international readings and partnerships with fellow organizations such as Cave Canem, Willow produces many of today's top poets of color. The Literature Awards is a national competition for writers from diverse backgrounds; the Established/Emerging Series publishes distinguished and emerging poets; Editor's Choice selects promising work from an annual open reading period; the Innovator Series recognizes the writings of leaders in the publishing industry who have committed themselves to advancing their fellow writers. Willow has created a national model for identifying emerging talent as well as providing established authors a much-needed platform for advancing their bodies of work. The format of the reading will involve 12-minute readings from five poets, followed by a 30-minute Q&A with the audience.
Writing Beneath War: The Middle East
Presenters: Philip Metres, Solmaz Sharif, Zeina Hashem Beck
Description: A themed group reading and conversation among poets whose work has struggled against the machinery of orientalist representations that has poisoned Western views of the Middle East. These poets explore other ways of seeing and writing our relationship to the Middle East. Zeina Hashem Beck's first collection, To Live in Autumn, centers on a post-war Beirut; more recent work juxtaposes war/ISIS/the Arab Spring with personal experience. About Philip Metres' recent Sand Opera (2015), Mark Nowak writes: "His unrelenting scrutiny of peace, war resistance, and the military-industrial complex, coupled here with erasures…gives us a bold new libretto about the black site at the heart of this country." Solmaz Sharif's forthcoming book, LOOK (Graywolf 2016), is a poetic rewrite of the U.S. Department of Defense's dictionary, connecting the operations of military and political language to the fate of her Iranian family story. Hayan Charara's Something Sinister (2016), his first book in a decade, grapples with the entangled conflicts of the personal and political. About Charara, Fady Joudah writes: "His poems feed us what we want, and what we think we want, because the poems have made a pact with us: that they will also offer us what we fear."
Writing for Hmong Freedom Over Three Generations
Presenters: Pacyinz Lyfoung, Chitzia Lyfoung
Description: This reading will include materials from three generations, using the word to document the Hmong people's struggle for freedom across countries and continents. Readings will be from original letters by the only Hmong man who recorded in writing the struggle for his people's freedom, which was tied to the greater struggle for democracy in Indochina; a memoir by his son; and poems by his granddaughter.
Youth Open Mic
Presenters: Open to all poets 20 and under
Young poets and emcees (20 and under) are invited to share their poetry in a lively and supportive atmosphere. The youth open mic will feature teens of the DC Youth Slam Team which took first place at 2014 Brave New Voices International Youth Poetry Slam Festival, as well as other young poets who sign up to perform. Each artist can perform one piece, 3 minutes or less.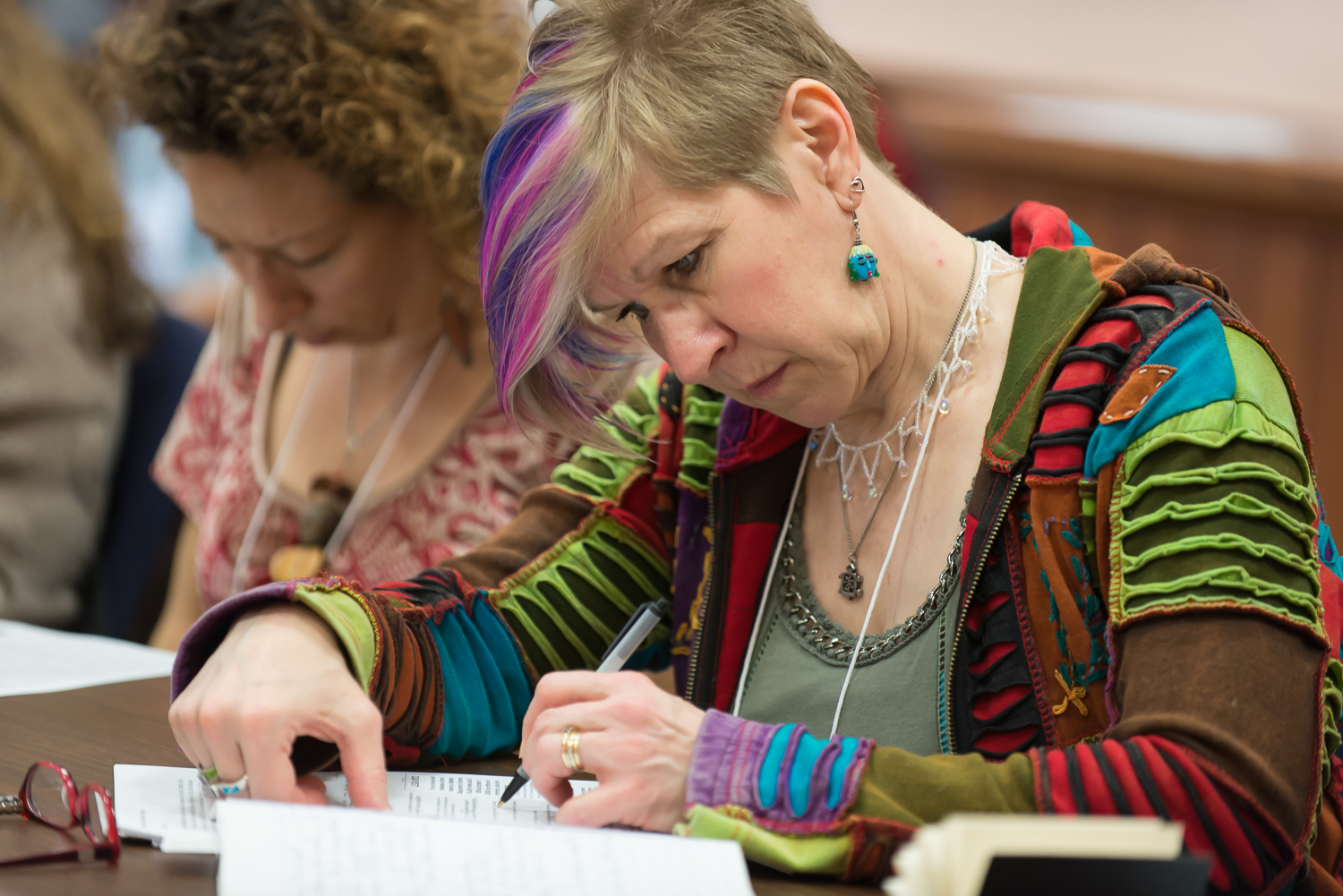 WORKSHOPS
Art n' Fact: The Intersection of Journalism and Poetry
Presenter: Khalil Anthony Peebles, Hodari Davis
Description: This interactive workshop will walk poets through the process of turning a long-form investigation into poetry. This section will briefly look at the work of the Off/Page Project (a collaboration between Youth Speaks and The Center for Investigative Reporting) and show how youth poets have worked with journalists to create groundbreaking work. In "This is Home," the project tackled subpar housing conditions of elderly residents in Richmond, CA. The short film "Locked [In]" explores the troubling reality of youth in solitary confinement. Participants will leave with a curriculum to help them recreate this experience in their communities and strategies to build the bridge between journalists and poets locally.
Cypher Circle Wisdoms: Healing with Hip Hop & Spoken Word
Presenters: Sage Morgan-Hubbard, Tish Jones, Moira Pirsch
Description: Come join us in interactive praxis and play as we navigate cipher circles and honor our ancestors through critical pedagogy and healing for social justice. We examine spoken word and Hip Hop as methodologies for self and community love and healing. All peoples of all ages are invited to co-create and explore the spaces of healing, arts, and learning within the inclusive sphere of the circle/ cipher. Starting with Indigenous healing exercises and ending with modern Hip Hop cipher practices we will explore the continuum from griots to MCs, the wisdom of oral traditions, and how these practices can be used as praxis in our various classrooms and communities. We will work with these questions: How would you define your community? What are your community's needs? How can you use circles to educate and heal? What are the Indigenous knowledges and practices that already exist in your community? How can you utilize the spoken word and hip hop artists in your community? What ciphers are you willing/ able to create?
Farm to Table to Poem: A Food Justice Poetry Workshop
Presenter: Craig Santos Perez, Aiko Yamashiro
Description: This workshop will begin with a brief introduction to the cultures, histories, politics, and poetics of food in Hawaiʻi. The workshop facilitators will also share their own experiences, activism, and poetry related to the Pacific food justice and sovereignty movement. Then, they will guide the attendees through generative food writing prompts, sharing and discussing the poems around the workshop table. Lastly, we will brainstorm creative ways that we can bring food poetry to our own communities.
In This Skin: A Writing and Performance Workshop
Presenter: Aimee Suzara
Description: "Every organ has a consciousness," wrote Akira Kesai. And Sekou Sundiata said, so aptly, "it all depends on the skin we're livin' in." The body is our nexus of joy and pleasure, as well as the nexus for historical trauma, erasure, and exploitation. This writing and performance workshop will allow participants to explore how to begin writing from the body, while addressing attitudes about the body, including perceptions and expressions of beauty, race, gender, sexuality, and ability/disability. Participants will explore and develop gesture and text through guided writing, theater, and movement exercises and create a short piece. Given recent events in which the destruction of Black bodies has been most visible, and the historical trauma experienced by many people of color, those of colonized histories, and women, the workshop has special timeliness and relevance. It is a part of an effort to remember, heal, and transform individually and collectively.
Invisible Americans - Voices Without Papers
Presenters: Naliyah Kaya, Yvette Lerma, Vishnupriya (Priya) Krishnan, Stephanie Cork
Description: This interactive workshop guides participants in exploring frequently unexamined notions about who is considered an "American" and why. In an effort to dispel myths and misconceptions around immigration, participants will discuss their own familial paths to citizenship and hear from undocumented individuals about their daily lived experiences, with special attention to the ways in which their various intersecting identities and cultures have shaped their lives and immigration experiences. Presenters and participants will then spend time imagining and discussing immigration reform strategies.
Looking at the Page: Page Considerations for Spoken Word Poets
Presenters: Elizabeth Acevedo and the DC Youth Slam Team
Description: This workshop will provide Spoken Word Poets/ Performance Poets with tools they can use when revising work in the hopes of publication. Some questions we wil be considering: How do spoken word poets prepare their work for viewing on the page? What special considerations should performance poets make when editing work for publication in literary journals, chapbooks, or online? Poet and head coach of Split This Rock's DC Youth Slam Team Elizabeth Acevedo guides this workshop with help from former students: Hannah Smallwood, Nesha Ruther, and Kenya Newsome.
Moving Breath, Moving Justice – Yoga Writes the Body
Presenters: Susan Brennan, Kazim Ali, Jeffrey Davis
Description: How do you want your body to move? Funky – High Octane – Sinuous? How do you want your words to move? Covert – Deliberate – Liberating? While tapping into the pertinent issues that are roiling inside you, allow yoga to yoke you to your movements, both Social and physical. Poets & Yogis, Kazim Ali, Susan Brennan, and Jeffrey Davis will guide you through a seamless sequence of delicious yoga postures spiced with reflective writing exercises and ancient texts. Wear clothing appropriate for movement, bring pen and paper; feel free to bring your mat and prepare to breath consciously, delve your impulses, and trip up your conventional language-ing.
Off The Page, On Your Feet: Moving To Labor Poetry
Presenters: Rocky Delaplaine, Elise Bryant
Description: Activism and activists thrive in a community of kindred spirits. It takes courage to speak truth to power. Like laughter, courage is contagious and can be cultivated, nurtured, passed along. In this workshop we will pick a few potent poems about work, and back up the words with the power of our breath, volume and timbre of voice, gesture, expression, and shared movement. When we stand, move, and speak truths using the medium of poetry, we embody courage and become its transmitter.
Poetry as Liturgy: Choosing and Using Poems
Presenters: Elliott batTzedek, Karen Escovitz
Description: This workshop explores ways of using poetry as liturgy in public and private events by learning which poems work and how to use them. Poetry—words that translate the felt into the spoken—is a powerful took for change. But when poetry is used in events it often falls flat because the poems are too heady, or too clumsy, or used in ways that distance or dull them. In this workshop, members of Fringes: a feminist, non-zionist havurah, in which poetry is used as liturgy, will work with participants to explore the elements of successful liturgy, practice these skills by evaluating poems in small groups, learn about and then practice a variety of interactive ways to use poems, learn about ways to use poetry and singing/music interactively, explore the Cento as a way to create new liturgy, and practice building a Cento or writing a liturgical piece in small groups. At the end of the workshop, participants will have new ways of thinking about the role of poetry in events such as protests and memorials. They'll have criteria to help choose which poems will work, and a set of new ways to use those poems.
Poetry of Caregiving (of Children & Seniors) – A Writing Workshop
Presenter: Sunu Chandy
Description: This workshop will allow parents and other caregivers to write and share poems focused on the challenges and joys of raising children or taking care of seniors in our world today filled with beauty and disaster. How do we engage with our children about hate crimes? How do we engage with a grandmother about homophobia? We will share a few poems concerning these themes and then write our own poems about moments related to taking care of our children and/or taking care of our own parents or grandparents or other elderly folks in our lives. We will also think through issues relating to making time for our poetry and some of the additional economic concerns one can have when raising children or having the role of a caregiver. Many of us are already caregivers and may struggle with varying feelings of resentment, joy, and gratitude and poetry. This workshop allows its participants to stay in touch as a sort of poetry-based support group for folks who are dealing with these sources of inspiration and obstacles to their poetic work.
Power of the Pen: Making Books to Empower Communities
Presenter: Pia Deas
Description: During the 1960s, Dudley Randall created Broadside Press, the first African American poetry press. Broadside Press was essential to providing an outlet for new poetic voices, establishing a collective identity, and empowering a community. Through its example, participants will discuss how making books, either as individuals, as a collective, or as a press, can be essential to lifting up voices of oppressed and marginalized groups. Workshop participants will have an opportunity to examine some sample books from Broadside press. The workshop will include a book-making session during which participants will learn techniques for creating their own books. Participants will consider what current political and social issues they might respond to in their books and what new perspectives they might offer. Ultimately, the goal of the workshop is for participants to create books of their work as an individual and collective response to contemporary issues. The workshop will end with an opportunity for participants to share what they created.
POETRY + PASSION = PURPOSE (A Writing Workshop on Community & Personal Visioning)
Presenter: Richard Love
Description: Poetry + Passion = Purpose is a Teens With a Purpose writing workshop in which participants mindfully manifest what they desire to see happen in their community, their neighborhood, and their lives, through creative expression. Poetry and music are fused throughout the experience. Participants will create a group piece that conveys a shared group value capable of reaching a broad audience, including, perhaps, people who do not share their values.
Restorative Poetics
Presenter: Samiya Bashir
Description: Humanity on trial in digital space. Inexhaustible violence of -ism and image. We'll consider the power of poem-making to metabolize aggression out of our bodies, to reclaim and restore humanity, and more. We'll explore an alchemical poem-making toward transmutation of experience, insight, and approach--collaboratively and individually--toward resolution of swarming aggressions into light, into recognition, into direction, into sustenance. We'll come with all we carry. We'll leave with new poems, new maps, new seeds.
Revolt: Writing Poetry Inspired by Radical India
Presenters: Minal Hajratwala, Shikha Malaviya, Ellen Kombiyil
Description: "I am broken by the revolt exploding inside me." – Namdeo Dhasal, poet and founder of the Dalit Panthers. In this powerful and engaging workshop, poets of The (Great) Indian Poetry Collective draw poetic inspiration from activist art from various waves of political movements in India and the diaspora. Using prompts drawn from a variety of poets who have been engaged in activist movements, participants will write deeply into issues of exile, imperialism, identity, caste/color discrimination, sexuality, and more. We'll explore how verse turns the deeply personal detail into the universal, bringing to light little-known voices from India's radical political traditions and injecting new energy into American poets wishing to engage with global revolutions. We'll share all the materials so that participants can take them back and share with their own communities and/or students, diversifying their reading lists to include vibrant contemporary global voices of protest.
Riot Playground: Transforming the Politics of Play and Poetry Pedagogy
Presenters: Muriel Leung, Danielle Buchanan, Grace Shuyi Liew
Description: Poetry is serious business. Or so they say. A glance at the history of poetry movements tells us, however, that as serious as poetry can be sometimes, it is actually a poet's playfulness that has led to innovation and invention in the art. But what does playfulness mean for the poet-teacher invested in a social justice approach to poetry education? How is play relevant to teaching a classroom of second graders newly alert to the powers of metaphor as well as a group of older adult writers who have yet to exhaust the potential of metaphor? What can we do to return play to spaces in which they are no longer welcome as a way of resistance? This interactive workshop will model different lessons and activities that have been successful across different age groups and learning spaces. It will be followed by a dialogue about the connection between artistic practice, teaching, and social justice education.
The Space to Create: Designing Successful Poetry Workshops for Communities
Presenters: Phil Kaye, Sarah Kay, Franny Choi, Jamila Woods
Description: Workshops can be the foundation of a thriving poetry community, creating a space for critical dialogue, feedback, and positive growth. But what makes an amazing poetry workshop? How do you create a space that feels safe to explore sensitive issues? How do you build trust among a group of people that may not know each other? How do you put together a workshop that sticks with your participants and gives them tools they can use for years down the road? This workshop will explore best practices for facilitating poetry workshops – and will give you the tools you need to start designing your own. No experience necessary!
Talk Back to Clobber Texts – in Poetry!
Presenters: Phyllis Meshulam, Tracy Gold
Description: "Clobber passages" is a term referring to verses in the Bible used to justify discrimination against gay people. These verses are a rich source of inspiration for talk-back poems, and there are many other sources that should be reclaimed and challenged via poetry. In this session, we will use poetry to talk back to messages from any source promoting racism, sexism, militarism, environmental degradation, or inciting domination, exclusivity, and intolerance. Maybe we'll re-tell the story, interrupting it with our own thoughts, characters. Maybe we'll use erasure to chisel at the text until a story of acceptance or empowerment emerges. Maybe we'll use a passage as an epigraph/introduction, then take off, fleshing out our own sensory visions of a better world. There's beautiful language in many of these texts, and their familiar narratives hold some authority. We can leverage that language or respond in our own voices. The workshop leaders will provide texts (and sample poems), but you can also bring your own – from scripture, myths and folktales to campaign literature, pop music, propositions, statutes and advertisements. Then we'll make kick-ass poetry!
Trauma Narrative: Writing As A Way of Healing
Presenter: Liz Alexander
Description: This workshop will examine how writing, as a medium, can be used as a coping strategy and self soothing technique for persons who have experienced psychological and emotional trauma. In this context, trauma is a term used to describe experiences or situations that are emotionally painful and distressing, overwhelming one's ability to cope, invoking feelings of powerlessness, and impeding the normal functioning of one's life. Through the use of exercises, the workshop explores how writing can serve as an outlet of expression, as a meditative practice, can be a space of safety and validation, and is a tool for processing and reinterpreting traumatic experiences. I also highlight several different modalities of writing, i.e music, spoken word, journalism, and memoir. The trauma narrative, or the "act of telling a story," is an effective therapeutic technique for survivors of trauma and this interactive workshop serves as an overview of that process.
Unlanguaging White Supremacy: Toward a Solidarity Poetics Practice
Presenters: K. Bradford, Kristen Nelson, Jen Hofer
Description: The world in all its beauty and brutality is made of language. Language scaffolds systems of institutionalized injustice -- and for poets, language is also the tool of our radical art-making and our revolutionary re-imaginings. What language can we use to unwrite white supremacy as it colludes with transphobia, sexism, classism and heterosexism? How to reimagine oppressive modes and syntax in and beyond language? On whose backs are our bridges built and how might we trouble the model of the bridge? What practical strategies and radical awareness about racism, white supremacy, white privilege, and solidarity action can we build without falling into clichés of allyship? This workshop will incite adventurous approaches to poetics as a spark and foundation to imagine otherwise; to conceive language as a tool for forging our way toward transformed community/kinship ties as potential for action. The facilitators of this workshop face daily moments where our gender, race, class or sexuality are "passed." Whether we are white & anti-racist or of mixed ethnicity, we ask: how can we acknowledge the privileges assigned to us while resisting the systems that afford those privileges. We invite a rigorous re-imagining of ways to notice and interrupt oppressive dynamics and structures – internally and externally, personally and systemically: poetically.
Write Now: A Teen-Led Poetry Writing Workshop
Presenters: Members of the DC Youth Slam Team
Description: Teen poets on Split This Rock's DC Youth Slam Team lead this writing workshop open to all. Interactive, participatory, and discussion-based, this workshop will include games, analysis of poems, writing prompts, time for sharing, and free pens.
Writing The Silence: Poetry of Witness
Presenter: Jen Fitzgerald
Description: What we witness compels us to write, but what triggers this impulse in us? After closely reading some canonical poetry of witness, workshop participants will be given a "Mapping a Moment" chart the presenter has created and used successfully in workshops. This chart helps the writer become entirely, consciously, present and begin to understand where this moment fits in their personal narrative. The group will then follow the mind's trajectory and create a vertical list of thoughts, impressions, ideas, and images. The list will allow for large synaptic leaps participants will interrogate; it is often in these leaps that we begin to understand how our past experiences inform our present lives. From this vertical list, poems emerge. We may get lucky and find the poem within the list or we may have to continue to mine our moment and think critically about the connections we "instinctively" make. Participants will leave the workshop with a "Mapping a Moment" chart that can be used throughout their writing careers, a packet of canonical poems of witness, a piece they have created and continue to work on, and a deeper understanding of how their personal narrative informs their poetry of witness.
Photos by Kristin Adair